Want to learn more about one of our classes?
Call us at: 480.513.4545
What is Project Management and why is it right for you?
Project Management is a proven method for planning, organizing and implementing projects and services with the scope, cost, time and quality desired.
The benefits are many for both small and large organizations in all industries or lines of work. Project Management: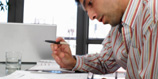 According to Project Management Institute, there are over 278,000 active PMP's on a global basis.