Want to learn more about one of our classes?
Call us at: 480.513.4545
For more information on our consulting services, newsletters, or to enroll in a class you may contact us using the form below.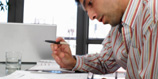 We can customize training to meet your needs. We can assess areas that need more focus and develop the appropriate training. Contact us at 480-513-4545.