Want to learn more about one of our classes?
Call us at: 480.513.4646
When an organization experiences internal conflict, the effects are far reaching. Understanding our colleagues' personal styles is essential to achieving maximum team effectiveness. B.E.B. can provide the services listed below to facilitate a more compatible—and therefore productive—workplace.
Understanding Your Personal Style
Facilitate group interventions to address issues of conflict resolution, decision making, communication and problem solving

Guide individuals to personal awareness and self development through leadership/personal style instruments (Myers Briggs certified)
Team Development
Provide tools and techniques for teams seeking enhanced performance

Consult on specialized communication methods and work process for virtual teams

Raise awareness of cultural, style and individual differences and provide tools and strategies to develop guidelines for communication and team development
Facilitation
Plan and facilitate productive group discussion

Lead team initiative planning, creative idea development and 'out of the box' thinking

Guide JAD sessions for project and software development
Training

Develop essential relational and people focused skills for project managers by focusing on the critical areas of managing conflict, developing the 21st century team, influencing and leadership, personal style and open communication
"Barb and Mike's experience and real world examples really helped me to take the training and educational information and translate it easily and apply it immediately to my job." Debbie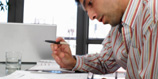 1. Today's economic landscape demands that professionals have key interpersonal skills required to facilitate brainstorming or data-gathering sessions, run high-profile meetings, and speak to both technical, non-technical and management audiences.
2. Interpersonal style, along with communication, customer-service and relationship-building skills, is critical not only to personal success, but also to the success of a project or organization as a whole. Presenting the right message, in the right medium, at the right time can be a difficult - though necessary - set of skills to acquire.